To celebrate the official launch day of my new short story collection, The Stone Thrower, I thought I'd post the first book of short stories I ever wrote, when I was 7. I've typed up the stories beneath the pics in case you're reading this on your phone. I hope you enjoy my stories.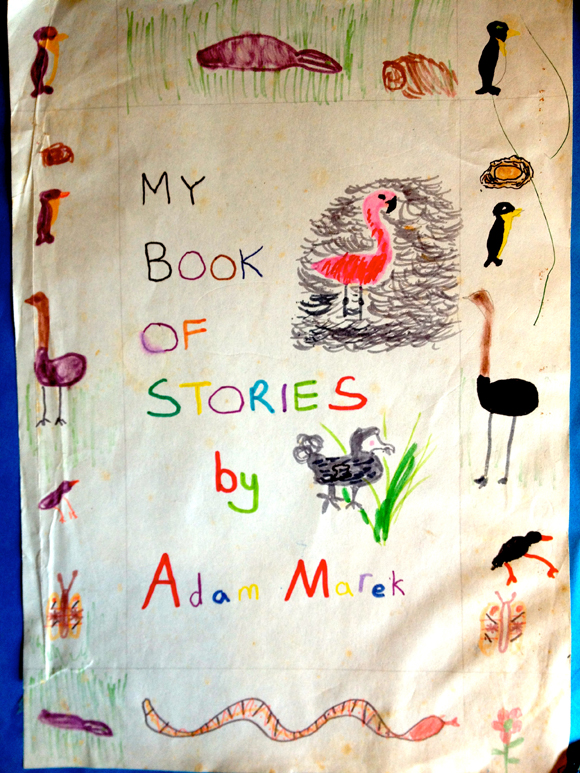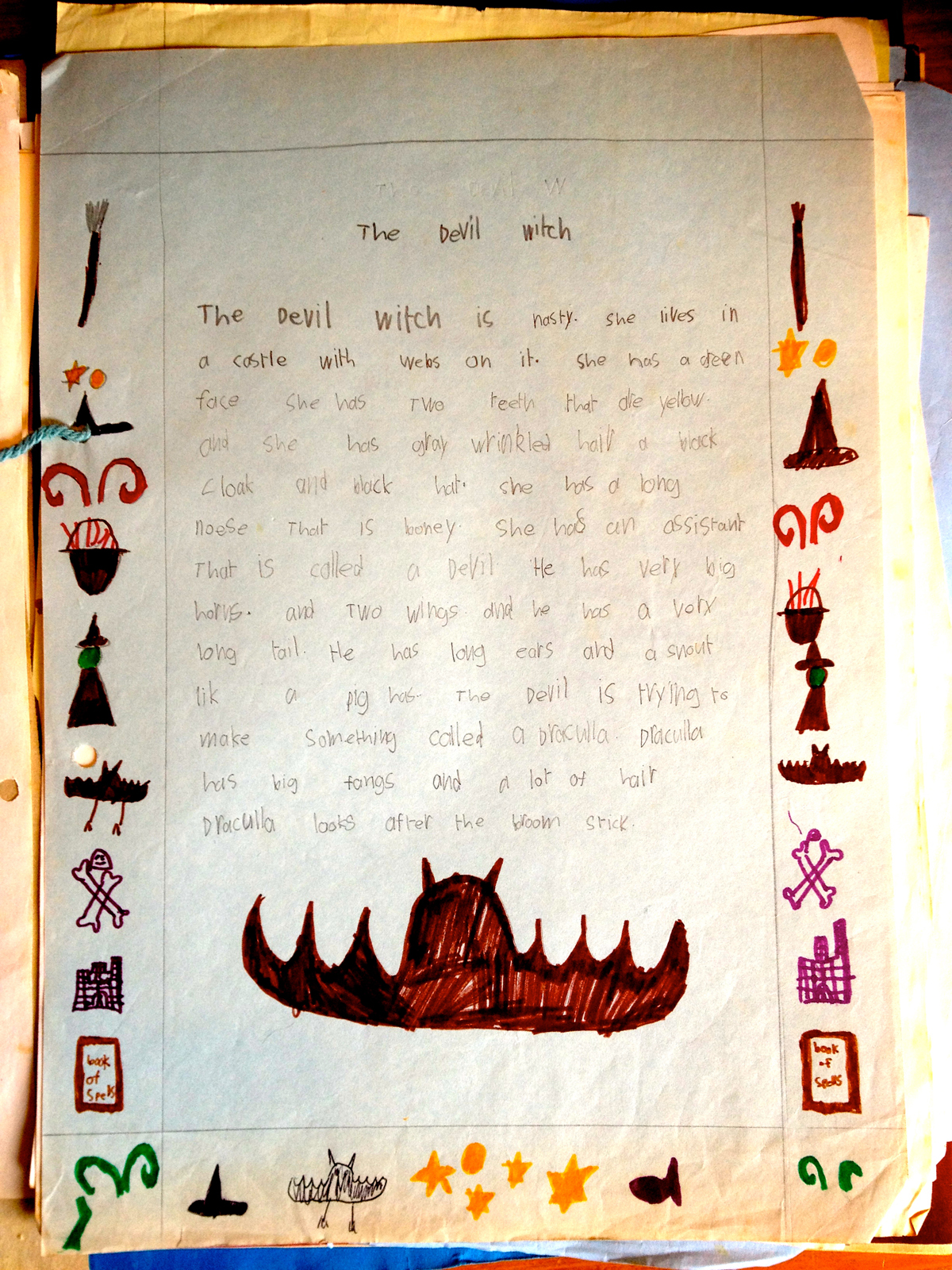 The Devil Witch: The Devil Witch is nasty. She lives in a castle with webs on it. She has a green face. She has two teeth that are yellow and she has gray wrinkled hair a black cloak and black hat. She has a long noese that is boney. She has an assistant that is called a Devil. He has very big horns and two wings and he has a very long tail. He has long ears and a snout lik a pig has. The Devil is trying to make something called a Draculla. Draculla has big fangs and a lot of hair. Draculla looks after the broom stick.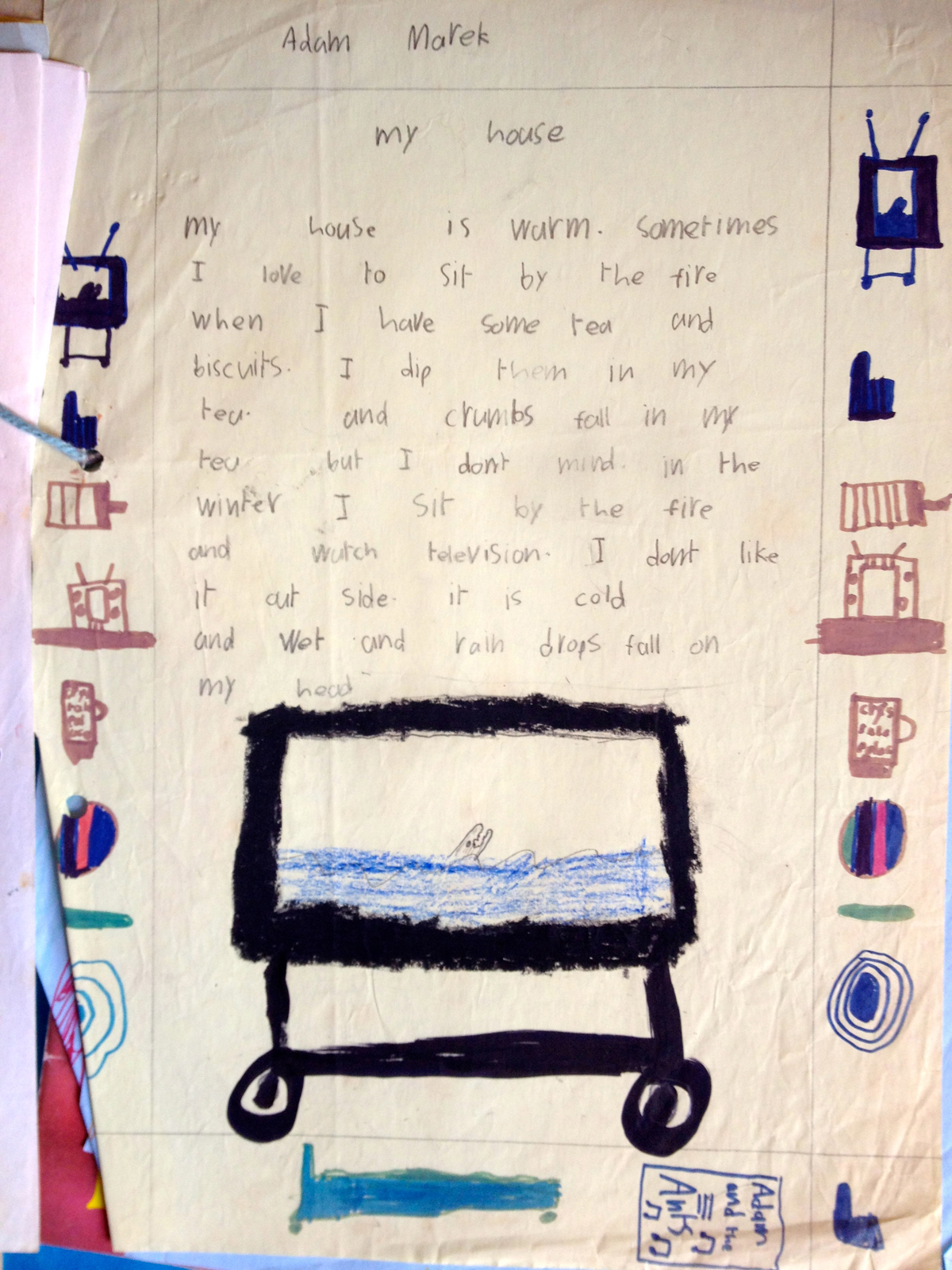 My House: My house is warm. Sometimes I love to sit by the fire when I have some tea and biscuits. I dip them in my tea and crumbs fall in my tea but I don't mind. In the winter I sit by the fire and watch television. I don't like it out side. It is cold and wet and rain drops fall on my head.
(I could have written this yesterday. I've not changed much really. The illustration is of Jaws, which I'd just watched for the first time.)
My Holiday Memory: Last Tuesday I went to Butlins in Skegness. It was a very long journey. The first day I went to the junior show place. I bought five key rings and a book of Raiders of the Lost Ark. Then I went to the pub and had some shandy and some crisps.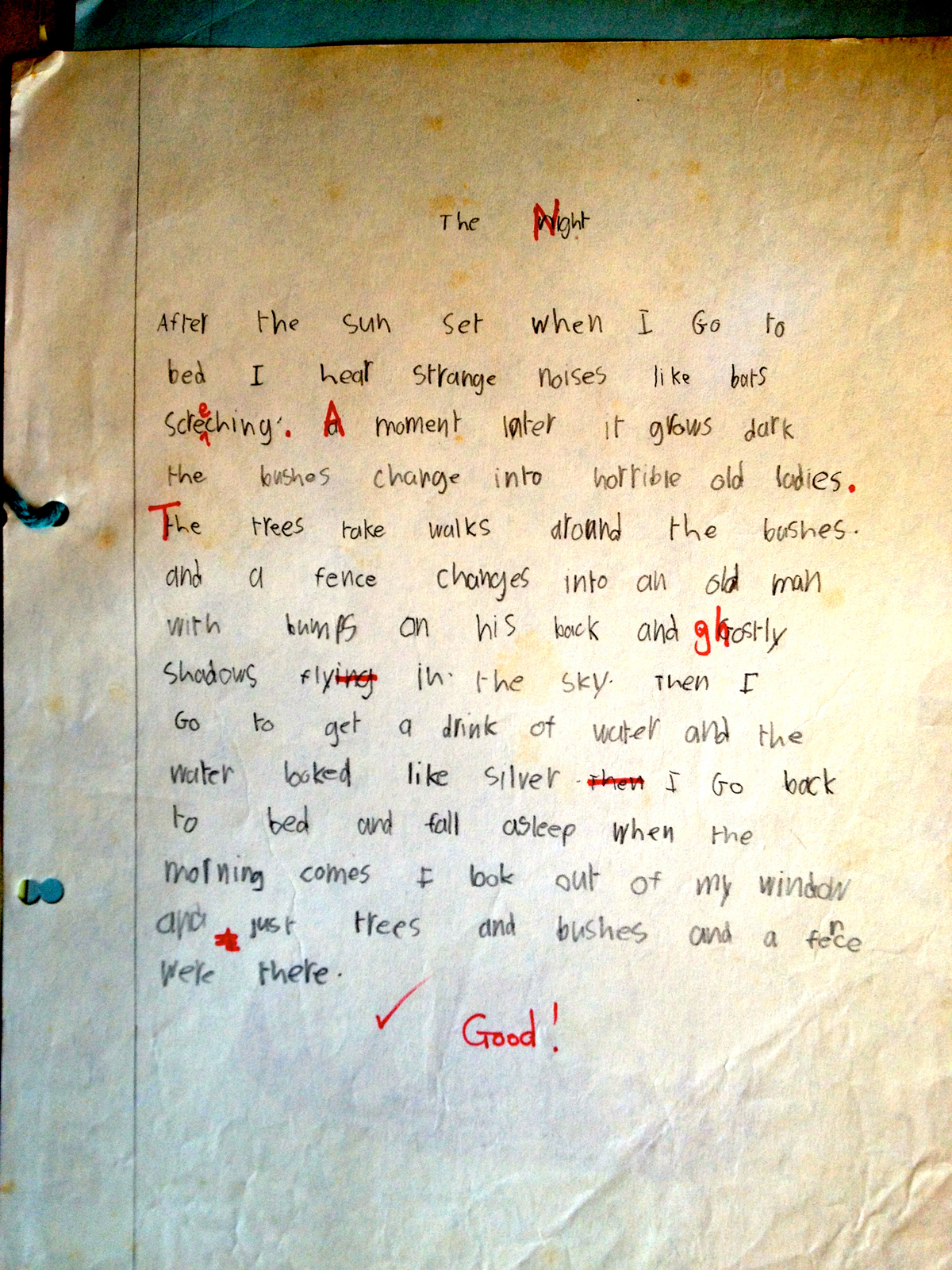 The Night: After the sun set when I go to bed I hear strange noises like bats screeching. A moment later it grows dark the bushes change into horrible old ladies. The trees take walks around the bushes and a fence changes into an old man with bumps on his back and ghostly shadows flying in the sky. Then I go to get a drink of water and the water looked like silver. Then I go back to bed and fall asleep when the morning comes I look out of my window and just trees and bushes and a fence were there.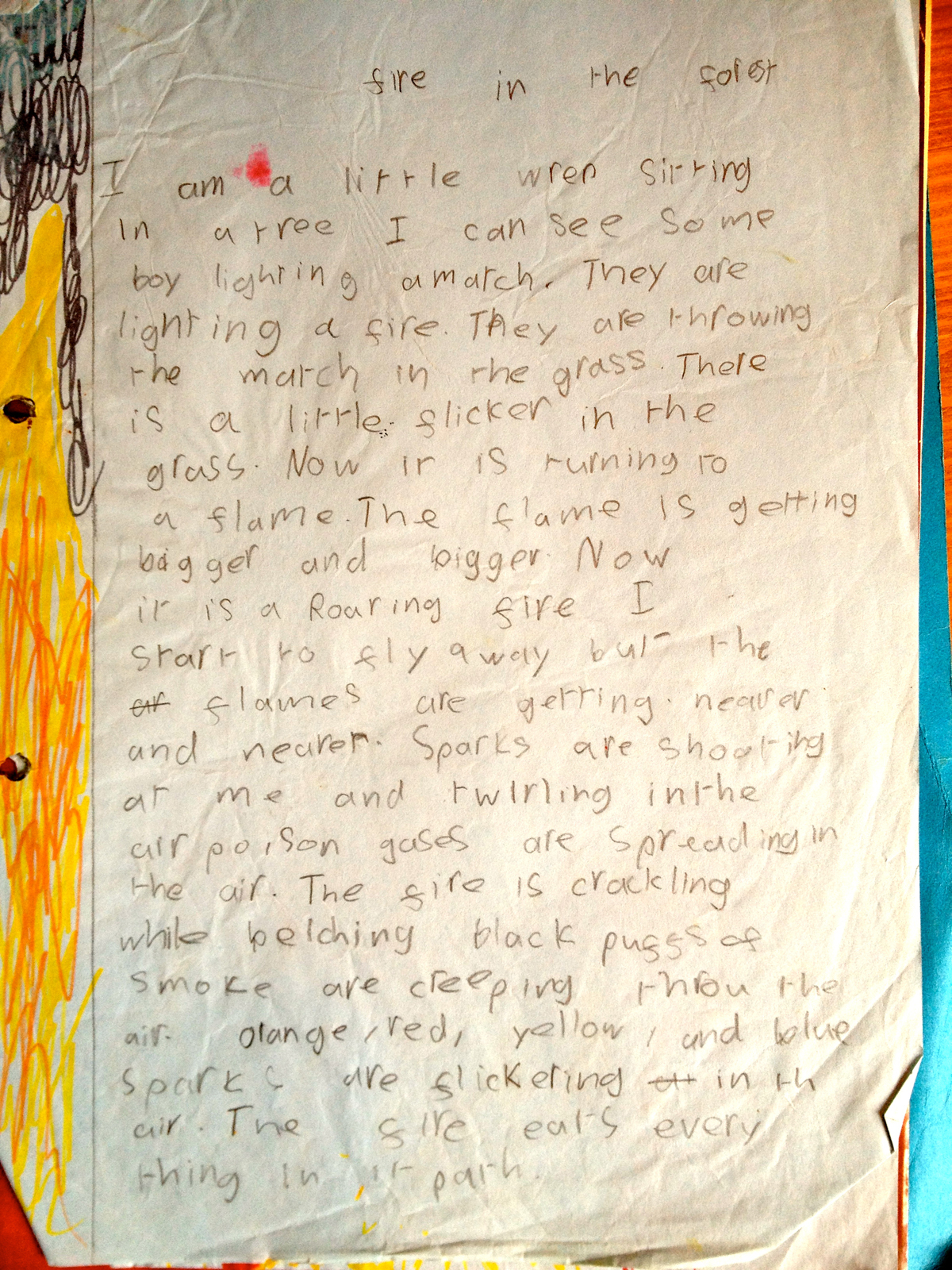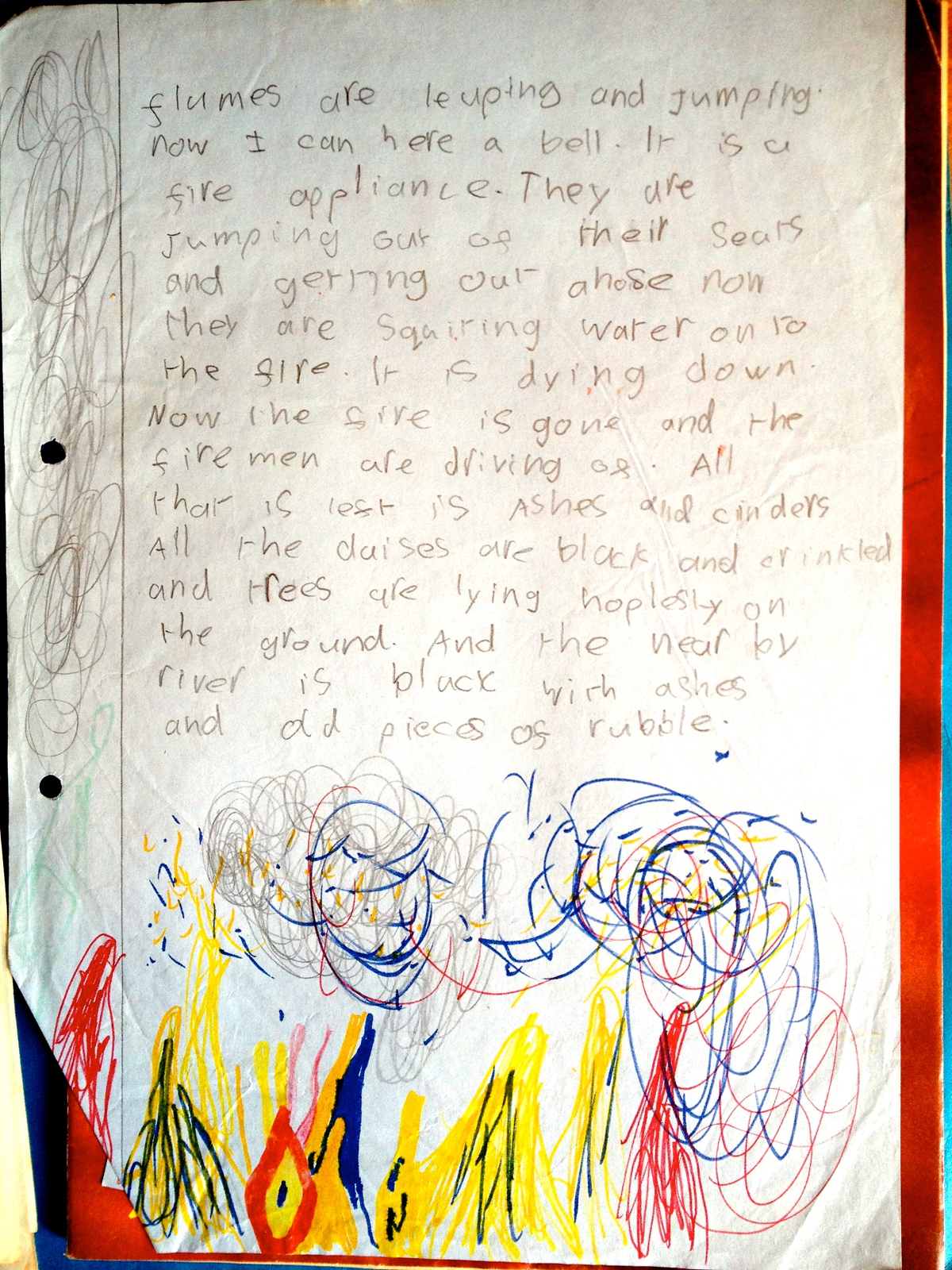 Fire in the Forest: I am a little wren sitting in a tree. I can see some boy lighting a match. They are lighting a fire. They are throwing the match in the grass. There is a little flicker in the grass. Now it is turning into a flame. The flame is getting bigger and bigger. Now it is a roaring fire. I start to fly away but the flames are getting nearer and nearer. Sparks are shooting at me and twirling in the air. Poison gases are spreading in the air. The fire is crackling while belching black puffs of smoke are creeping throu the air. Orange, red, yellow, and blue sparks are flickering in the air. The fire eats every thing in it path. Flames are leaping and jumping now I can here a bell. It is a fire appliance. They are jumping out of their seats and getting out a hose. Now they are squiting water on to the fire. It is dying down. Now the fire is gone and the firemen are driving of. All that is left is ashes and cinders. All the daises are black and crinkled and trees are lying hoplessly on the ground. And the near by river is black with ashes and old pieces of rubble.
(Cormac McCarthy's The Road pretty much picks up where this story leaves off.)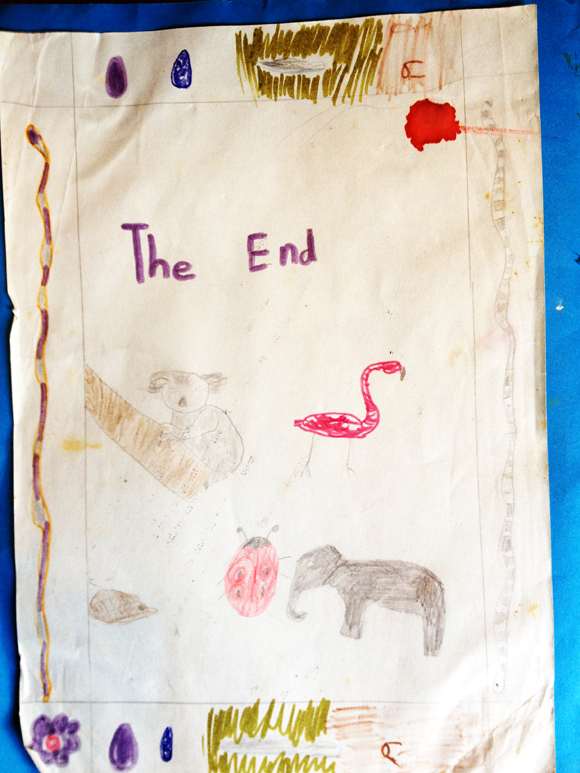 (There's one additional story called Fight against the Kraken – maybe my favourite – which will be in the new online literary journal Menacing Hedge on 1 Oct 2012, along with my brand new story Tara's Scarecrow.)
The Stone Thrower is out now – read what The Guardian and the FT had to say about it here.