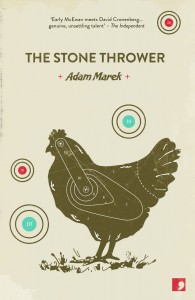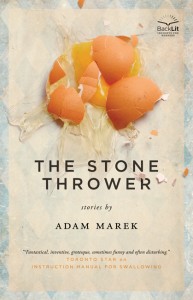 A dad searches for a cure for his son's sick Tamagotchi; genetically enhanced schoolchildren need military-tech uniforms to survive; a couple struggles against the ordeals of life under a superhero dictator; a reporter visits someone he has wronged in a plantation of orangutan workers; and a village ritual involving toothless sharks… Welcome to the strange and startling world of Adam Marek; a menagerie of futuristic technology, sinister traditions and scientifically-grounded superpowers – a place where the absurd and the mundane are not merely bedfellows, but interbreed.
Pulsing at the core of Adam Marek's much-anticipated second collection is a single, unifying theme: a parent's instinct to protect a particularly vulnerable child. Whether set amid unnerving visions of the near-future, or grounded in the domestic here-and-now, these stories demonstrate that, sometimes, only outright surrealism can do justice to the merciless strangeness of reality, only the fantastically illogical can steel us against what 'ordinary' life threatens.
Buy The Stone Thrower now from Comma Press and Amazon, or for your Kindle.
North American edition with an extra story, my desert island books and a Stone Thrower playlist available now from ECW Press, Amazon and Barnes and Noble.
Reviews of The Stone Thrower
"Adam Marek is one of the best things to have happened to the short story this century. His stories might be strange, delicious or haunting – but they're always compelling. Any day now the word 'Marekian' is going to enter the language. Get in on the act early. Read him now."
Alison MacLeod
"The fragility of children is overwhelming in this collection. In stories beautiful and strange, Marek tries to build a kind of fortress against what would truly break us. This is writing as exorcism and prayer, words to dispel brutality and fate."
David Vann
"…hits the target every time."
The Guardian review, by Alfred Hickling.
"…this bold young writer is refreshing the form."
Financial Times review, by David Evans.
"…addictively off-kilter."
Litro Magazine review, by Emily Cleaver.
"…the stories in the collection seem to teeter upon this verge between the fantastic and the familiar, producing pure pleasure."
Thresholds review, by Lela Tredwell.
"Expertly deploys the conventions of the form, with eye-catching opening lines and devious endings."
The Observer review, by Anthony Cummins.
"He's one of the UK's best short story writers…I like it. You'll like it. Go and get it."
Bookmunch review, by Valerie O'Riordan
"Strongly entertaining and tautly written, these [stories] are for the literary reader who enjoys a sudden twist away from the ordinary."
Booklist review by Julie Trevelyan.
"Marek sinks his hooks into you within seconds."
Vancouver's Straight.com review, by Michael Hingston
"It comes as no surprise that Marek counts among his influences J. G. Ballard and Etgar Keret… one might even say that Marek is their slightly afflicted literary offspring, an odd little lad to be taken to our bosom."
The Toronto Star review, by Stephen Finucan
"This collection is visionary, loud and ridiculously, effortlessly slick."
The Short Review review, by Melissa Lee-Houghton
Shortlisted for the Edge Hill Short Story Prize