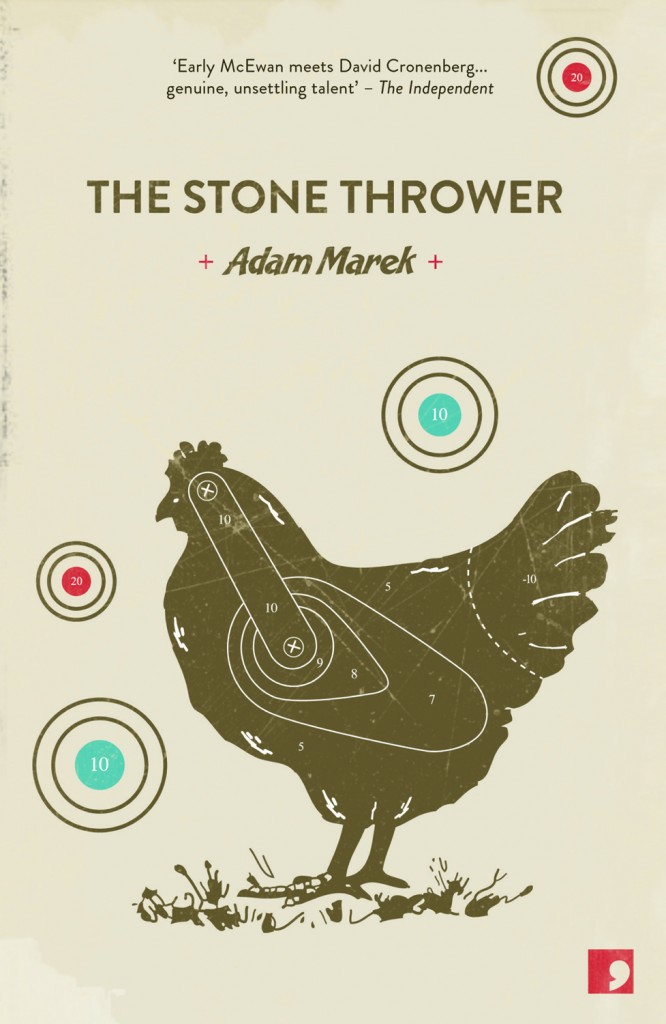 The moment just before you see the cover design of your book for the first time is a tense one. After years of working on all the stuff that goes on the inside (four in this case), here is its face, the thing that everyone will look at first. The thing that people will judge it on. It has a hell of a responsibility, this cover art.
So many people said how much they loved the cover of Instruction Manual For Swallowing, I felt that The Stone Thrower had a tough act to follow. So I was relieved when Ra Page, my editor at Comma Press, said that the same designer would be working on it: David Eckersall.
And here is is. I am thrilled with it.
David took as his inspiration old fashioned american target practice signs, applying this great graphic style to the subject of the title story – chickens. In The Stone Thrower story, chickens don't fare so well.
If you've an eye for detail, you'll notice that the scratch marks on the cover are identical to the scratch marks on Instruction Manual For Swallowing. It even has the same weathered stain on the left hand side. Neat.
I've just finished checking proofs of the book, and it's now on its way to the printers. It'll be out from Comma Press on 20 September 2012. You can read a new story from the book – Remember the bride who got stung? –  over on Thresholds right now.