I've just got back from a brilliant week tutoring a short story course and stuffing my face with Tania Hershman at Arvon's Totleigh Barton centre in Devon. What a treat! Here's my report, in bullet points:
Monday
• Totleigh Barton is REMOTE. It's an hour's drive from the nearest train station – Exeter St David's. When I arrive, my phone signal winks out and won't return till Saturday.
• Pheasants abound here. One halloos me from a muddy field as my taxi drives past.
• I'm dropped off outside the gorgeous pre-Domesday manor house. Tania has already arrived and introduces me to Claire and Olly who run the place. Everything just smacks of cosiness: rain dripping off the thatched roof, the beamed kitchen full of cooking smells, Huxley the dog with his well-chewed frisbee, the hot water bottle in my wardrobe.
• At dinnertime, Tania and I wait in front of the fire to greet the 13 writers attending this week. We write 'welcome' on a blackboard beside us – it's an unnecessary detail, but it's how we want everyone to feel. It's a declaration of intent.
• The next couple of hours is like the first night of Big Brother. Everyone shakes hands, tries to remember names. Except it's not like Big Brother because everyone seems to be lovely.
• I'm amazed to hear that one of the writers has come all the way from Scotland. But then another has come from Paris. And then one from Amsterdam. My five-hour journey now makes me look like a local.
• Pasta bake. Wine. Chit-chat. Getting to know yous.
Tuesday
• We prepare our own breakfasts. Compare notes on how we slept. The rain overnight was dramatic and featured heavily in people's dreams.
• Tania takes the first workshop. She gets everyone playing word cricket – a game where we write spontaneously from a one-word prompt. Every minute she throws out another word which we have to incorporate. The group chuckles at the nonsense they produce, and makes hmmmm noises of appreciation whenever the exercise sparks something interesting and unexpected. This is a good game.
• Lunch is pasties and salads. I don't eat much because I'm a bit nervous about giving my first ever Arvon workshop afterwards. These writers have arrived here with high expectations – I just hope I can meet them.
• In my room, I psych myself up listening to Dizzee Rascal's Bonkers.
• I take the afternoon workshop about creativity and where ideas come from. I promote imaginative mash-ups. I think it works. The group digs the little video clips I've brought along of creatives talking about their process: Ira Glass, Ray Bradbury, Jack White.
• The group takes turns to cook the evening meals. Tonight it's salmon, which is yum-bum. I'm saying 'yum-bum' too often this week already. But I just can't help myself.
• Tonight, Tania and I are reading our work to everyone. We go to the newly converted barn. There are fairy lights wrapped round the beams, sofas it's hard to get out of. Tania reads first, and is wonderful of course. I promised Tania before we came that I wouldn't read The Stone Thrower again as she has heard me read it before, and it distresses her to imagine those poor chickens. I break this promise.
Wednesday
• I'm a little fragile after a late and boozy night, but get up at 6:45 to read the stories of the four writers I'll be meeting in one-to-one sessions this afternoon.
• Breakfast. We compare notes on the rain, which was biblical again last night. The roof has not stopped dripping since we arrived. We find out later that the storm has caused a landslide and that there are no trains running from Exeter St Davids, but the weekend and going home is still far away.
• I take today's workshop – it's about the editing process, a mix of practical stuff and some out-there NLP Jedi-stuff.
• Lunch is pasties. With two workshops completed, my nerves about teaching are gone and I can eat large.
• The lovely Helen Dunmore arrives for the mid-week guest reader event.
• The lovely flapjack arrives. Every afternoon there are fresh treats.
• An afternoon of one-to-one sessions. What a pleasure to chat about fiction in Totleigh's lounge, sunk deep into the sofa, slurping tea.
• Dinner is Thai curry. I could eat a bucket of it. But this option is not available.
• Helen Dunmore talks about her life in fiction, reads a story from her collection Ice Cream, and is charm on a stick. A tawny owl hoots outside.
Thursday
• Early rise again to read the students' work before breakfast. I thank myself for being restrained the night before.
• Tania takes this morning's workshop on writing within limitations. We write on little pieces of shaped paper. We write a drabble (the name for a 100-word story). We write from the point of view of a body part.
• Claire and Olly take Tania and me to the nearby village of Sheepwash for a lovely pub lunch. Feels weird to see the real world. Haven't seen any news or looked online since the weekend. We could have been invaded by aliens and not have known.
• Tonight we eat bangers and mash, stay up till 2. This is the booziest night so far. One of the writers here writes copy for a supermarket, and earlier in the week, she mentioned that she only has a couple of adjectives with which to describe chicken breasts on packaging. Together, we all go through the whole alphabet, brainstorming chicken breast adjectives. We come up with 50 or more. We are PROPER filthy. This is spectacular fun.
Friday
• I get up at 6:45 again to read today's students' work. Great stories, but ouch!
• Everyone's in a mild funk about it being the last day. The train lines are still down. We wonder if we'll be marooned here. The thatched roof is still dripping.
• Today's workshops are optional. I make the stupid mistake of calling mine 'metaphor', when Tania has called hers a more titillating 'sadism'. I expect maybe three or four students will come to mine, but am cheered when I see everyone there.
• While trying to make up an example of a bad metaphor on the spot, I make an enormous gaff describing Totleigh Barton as '12 gnomes running a marathon'. I SINCERELY meant to give a bad example of a metaphor describing the physical buildings, NOT the 12 writers sitting in front of me. Honestly. They see the funny side of it, thankfully.
• In an attempt to demonstrate that the story is made in the edit, I further embarrass myself at the end of my workshop reading the first page of the first draft of The Stone Thrower. It's a thing of ugliness and I cringe all the way through, but I think it's appreciated.
• Tania gets everyone playing word cricket with nonsense words and writing in response to New Scientist articles – one of which is about scientists who work with fart spray and the disgust response.
• Lunch is baked potatoes. I miss the pasties. Boy am I fond of pasties.
• After I've finished the last of the one-to-ones, I am FRIED. I go to bed for a long Pzizz.
• After the final dinner (Moroccan lamb), we all pile into the barn, where the writers take turns to read something they've written. There is cheering and clapping. It's a real treat to sit back and be entertained.
• The table is piled high with all the wine that's left over, the banana cake, bread-and-butter pudding, cheese and salami. One of the writers plays music from her MacBook. We go on till there's nothing left. One by one the writers go to bed, till there's just three of us, then two, the last to turn in at four.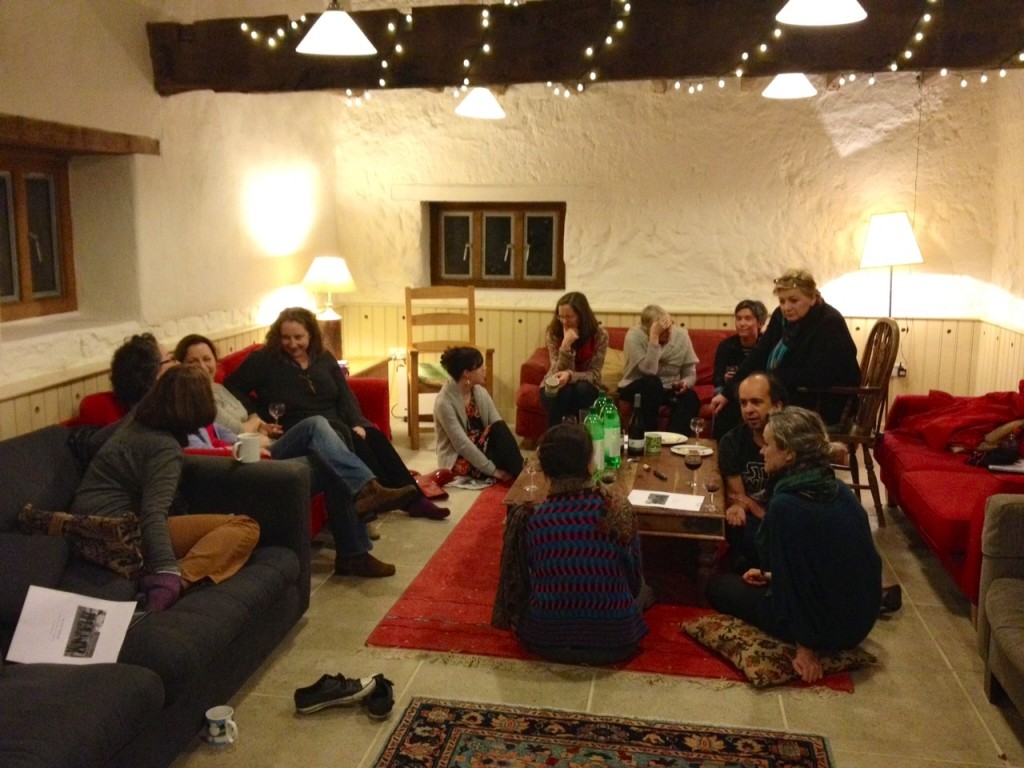 Saturday
• The lost sleep and long hours of concentration are really showing on me now. The whites of my eyes are the same colour as my skin.
• We all weave around each other and the kitchen table one last time making our breakfasts. The train line is still down and for many of us the journey home will be a long one.
• Hugs all round. There's a strong reluctance to burst the bubble we've created together over the week and return to normal life. It's sad to say goodbye, but I've missed Naomi and the boys like crazy this week and can't wait to see them again.
• On the train home, fields either side are flooded, trees half submerged in muddy water, adding to the sense that I have been thoroughly detached from the real world for the last week.
Thanks so much to the Arvon Totleigh Barton team: Claire and Olly, Eliza, Steph, Brigit and Caroline, and to Tania and the 13 writers who made this week such a joy. I'm already booked to teach another Arvon course in May 2013 with Kate Clanchy, and I'm already looking forward to it.