You know that feeling of excitement and joy you get when you first buy a new gadget or beautiful item? And how, after a very short time, that initial excitement starts to fade, and eventually, the item just becomes part of your background stuff? Well, that feeling of excitement never faded for my Fisher Space Pen. I love it every time I use it. It goes everywhere with me. When I leave the house, I always tap my pocket to make sure that it's there. Here's what's so great about it:
• the bullet pen is small enough to fit in your jeans pocket, and it becomes a full-size pen when you put the cap on the back
• it doesn't ever leak
• regular pens rely on gravity to feed the writing tip with ink from the cartridge. The Space Pen's refills are pressurised with nitrogen, so  it can write upside down. If you're lying in bed making notes, the ink flow won't stop half way through your idea the way it will with regular pens
• it's such a beautiful object, don't you think? It has a pleasing weight and feels good in the hand, too. The original chrome bullet pen is on display in the New York Museum of Modern Art as an example of excellent industrial design
• it can write at any angle, in any temperature, on just about any surface, even wet, greasy, dirty paper. It'll even write underwater, if you ever have the need.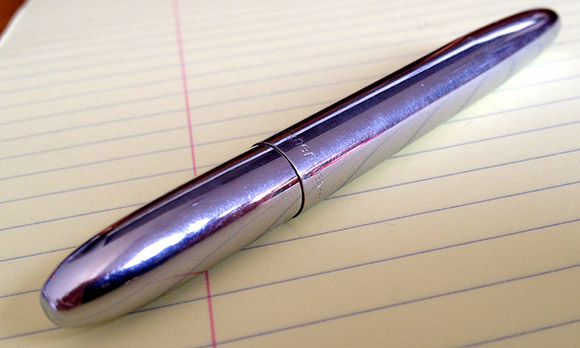 Every book I've ever signed, I've signed with my Space Pen.
There's an apocryphal story that when NASA realised regular ballpoint pens won't work in zero gravity, they invested millions of dollars developing the Space Pen, whereas the Russian space agency just gave their astronauts the simpler, cheaper solution of pencils. This isn't true.
Astronauts from both space agencies initially used pencils on missions, but the risks from having snapped-off pencil lead and graphite dust floating about inside space vehicles were too great.
The Space Pen was developed independently in the mid-1950s by Paul C Fisher of The Fisher Space Pen Company using his own funds. He patented the anti-gravity pen in 1965 and offered it to NASA. After two years of testing, NASA took Space Pens on the Apollo 7 mission in 1968. They're now used on all US and Russian space missions.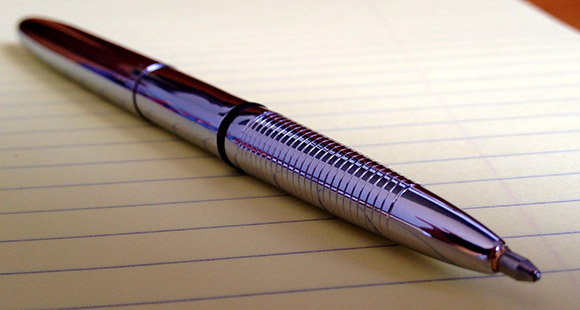 I have a great fountain pen (an Aurora Ipsilon) that I often use to write first drafts if I'm at my desk, but like many fountain pens, it's incredibly fussy about the type of paper it'll write on smoothly. It took me ages to find the perfect paper-nib match for my Ipsilon – Rhodia notebooks (I use their yellow legal notepaper pads, as I like the way the black ink looks on them).
BUT, my Space Pen is the go-anywhere, write-on-anything workhorse that never lets me down.
I live in hope that one day I'll get to use mine in space.
(PS. For more writing tools I can't live without, click the tag below.)