Here's my report on the first Story Salon at The Society Club in Soho – the new monthly lit-night from Cathy Galvin, creator of the Sunday Times EFG Award.
Meet Alison MacLeod at Oxford Circus. She has a new purple coat. 
Arrive at the Society Club and meet Carrie Kania, one of the owners

.

GREAT selection of books here. Carrie says each one has a special reason for being on the shelf.  

We try to be quiet while Cathy Galvin interviews tonight's readers on camera. 

We can't be quiet, so go outside. 

Will Cohu has an app that lets you to film something, then blow it up or crash a plane into it. 

He films us in Ingestre Place and drops a giant wrecking ball on us.  

There is wine. 

Audience arrives. Full house. 

Cathy Galvin welcomes everyone. Stories and companionship, that's what the Story Salon will be about.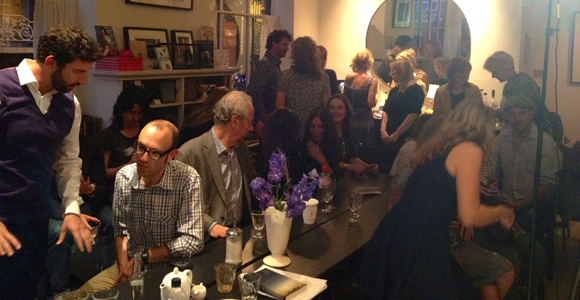 Brilliant story readings begin:
– Alison MacLeod on the London riots
– Evgenia Citkowitz on adopting crack-orphans
– interval: Emma Cantons tells me about her amazing mum who learned Russian by reading War and Peace.
– Hazel Osmond on awful step-mothers
–

Will Cohu on rhinoceros hunters.

Brilliant story readings end, but Cathy promises similarly great line-ups at future events.    

Wow, look at that rain. 

Talking bird poetry with Steve Wasserman: Gerard Manley Hopkins' The Windhover and John Lillison's (Steve Martin's) Pointy Birds. 
Is that a first edition of Naked Lunch in the glass cabinet? I covet it.
There's a tiny dog in here.
Everyone hungry. We head out into Soho.
Find tapas.
We have the third floor to ourselves.
All lean out the window to watch the Hare Krishna parade go by.
Impossible to hear anyone say 'patatas bravas' without chuckling.
Eat squid and meatballs, drink wine.
Look at Victoria Cantons' paintings of volcanoes and atomic explosions on her iPhone.
We have trains to catch.
Kisses. Handshakes. Paul McVeigh leads me and Alison back to Oxford Circus.
Paul and Alison talk about their enthusiasm for Ceili dancing.
I talk about the time I bought a ninja suit in Carnaby Street.
Enormous soy latte on the train. Heart palpitations.
Too tired to read my new book on metaphor. Listen to Sub Altern Podcast: Nikesh Shukla interviewing Evie Wyld.
Naomi has waited up.
Watch American Dad in bed.