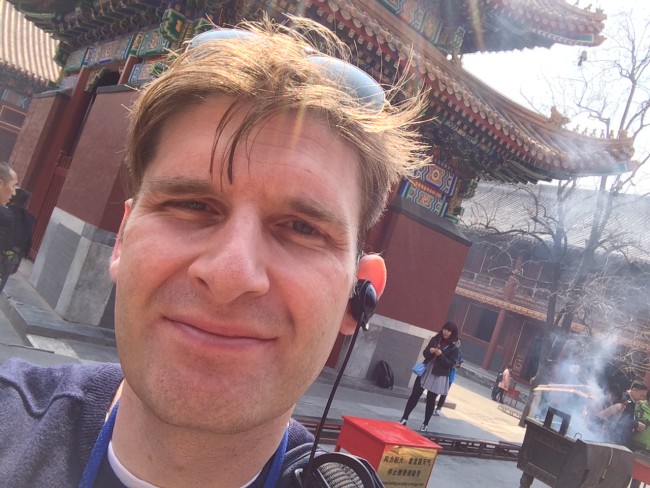 I just got back from the most amazing trip to the Beijing Bookworm Festival. Thanks so much to the Bookworm and to the British Council for taking me over there, along with awesome short story writers Zoe Gilbert and Rachel Tresize. What a treat. Here's my report of the week's highlights, in bullet points.
Meet Zoe and Rachel at Heathrow. Mutual expression of excitement and general can't-believe-we're-going-to-China-we're-so-lucky-ness.
Time-travel 8 hours into the future on the plane. Air China breakfast = egg fried rice with bacon = delish.
Oh my God, I cannot believe this hotel. The Opposite House is the superlative of decadence. Luck-luck-lucky. What did I do to deserve this? I have a huge wooden bath! And a bedside remote control for the various mood lighting options in my room. And most exciting of all, the 'Twilight Zone' of dangly lights above the pool is the cover photo from the brilliant Deftones album Koi No Yokan!
I wish I spoke Chinese. Manage to spend £10 on a bottle of Fiji water. It's damn good water though. (Discover three days later that all the drinks in the fridge in my room, including water and delicious Chinese beer, are complimentary, and quickly make up for lost opportunities.)
Zoe, Rachel and I head over to the Bookworm to meet festival director Peter Goff. The Bookworm is a first-floor Bohemian cafe/restaurant/book-palace at the edge of a super-swanky shopping and restaurant district.
Peter is the most lovely and generous host. We will not have to pay for a single drink in here. We head up to the rooftop patio and marvel at the neon-spangled Beijing skyline. So good to be here.
Starving and excited about eating our first meal in China. But we struggle to find a Chinese restaurant on the way back to the hotel. The district is full of Italian, Mexican and American-style restaurants. So easy to find spaghetti bolognese or Vietnamese curry. With everything closing for the night around us and options vanishing fast, we go for gourmet burgers. My Schezuan burger (2-chilli rating) is the hottest thing I've ever eaten. I'm sweating from every pore, especially those on the top of my head, where the steam is collecting. Rachel and Zoe kindly manage to mask their disgust. So glad I didn't go for the 4-chilli rated burger.
Zoe jets off to the Bookworm in the city of Chengdu, where she will meet pandas. Rachel flies off to her own events in Suzhou. I stay in Beijing.
My itinerary is free for the day. I visit the Lama Temple, light many incense sticks and bow to many glorious multi-armed deities.
So relieved to find that, contrary to warnings in YouTube 'Things to know before you go to China' videos, squat toilets are not ubiquitous in Beijing.
A night at the Bookworm Festival – an event about China's 'Ghost Cities' – huge urban developments that remain uninhabited because of lack of funding to finish construction. Then I hang out with the festival gang till the early hours.
The lovely Li Ning from the British Council meets me in the lobby on my second full day in Beijing, and we head off to Renmin University, where I do a workshop for a group of literature students. The university is HUGE – 50,000 students! Thankfully I'm only doing a workshop for one class-full of them.
Still struggling to find Chinese food in China. I guess it's like arriving in Piccadilly Circus and hunting for roast beef and yorkshires. Excited to find a little noodle and dumpling bar. Plum juice is yum juice.
Back to the Bookworm for a storytelling event. Beijingers, mainly from the US and the UK, get up to tell personal anecdotes around the theme of atonement. Some play like confessionals, some like juicy gossip. They're all entertaining. Such a friendly bunch of writers, festival volunteers, readers, locals and expats here. We listen to the live band and chat till late, when an Australian children's book author and his gang arrive, and he takes the microphone to sing Tommy Steele's Little White Bull. We all join in.
Day 3. I do my Bookworm Festival workshop on coming up with ideas and shaping them for short stories for 20 writers. Head up to the rooftop afterwards with some of the writers for coffee and to chat short stories some more.
Lunch in the Bookworm: sweet and sour pork and chrysanthemum tea. Fragrant faceful of flowers and steam. Delicious.
Zoe arrives back in Beijing. We head out to a hotpot restaurant – this is the most delicious fare. The soup base is the water from four fresh coconuts poured into the pot on the burner in the middle of the table. We order a bunch of veggies and fungi, cuttlefish balls and chicken. A whole raw chicken is delivered to our table, face and feet and everything, chopped expertly but retaining its full naked-chicken form. Everything goes in. The cooking timer is set. Oh boy this is so good!
Day 4: Rachel has returned now too. We all swap notes over breakfast about our adventures over the last couple of days. Early afternoon, we head over to the Bookworm for our main event – a reading and discussion on our work and the British short story scene. Meet Carma Elliot, head of the British Council in China, and do our best to express how grateful we all are to be here. Our visit is part of a six-month UK-authors-visit-China project. Later in the year, it'll switch round, and lots of Chinese writers will visit the UK. Looking forward to that. Very proud to be part of this cultural exchange. A great crowd comes out to see us. Our moderator, Joe McKee, is brilliant, and the audience asks lots of smart questions. Zoe, Rachel and I are a short-story-tag-team with our answers.
We all head up to the roof patio with a camera crew to be interviewed for Chinese TV. I manage to project a big fleck of spit from my mouth as I speak, so enthusiastic am I being. Another clip for my mental showreel of embarrassing public gaffs.
We eat the best Peking duck in the world. I shit you not. This place is difficult to get a table at without booking way in advance (thanks Li Ning!). There's a process to the preparation of the hoisin sauce at our table, involving two different kinds of nut sauce and ground nuts, which, if I were to describe it in full, would double the length of this bullet point. We gape watching the waiter (artist) at work. When the duck comes out, it is announced with the bang of a gong, then brought out whole on a trolley by the chef and carved into perfect slices before us. Every mouthful is exquisite. We all grin the whole way through. UK shredded duck = pork scratchings to me now.
Back at the Bookworm, I take part in the Literary Trivia! quiz night. It's teams of three: authors vs journalists vs hoi polloi. Maybe it's because our buzzer doesn't work so good, maybe it's because we don't know nuffing, or maybe it's because journalists have preternatural reflexes, but we authors get thoroughly whooped. I clean up in the Pictionary round though, thanks to my nan, and all her years of training. It's a fun event though, and as the underdogs, we have the audience's affection.
Closing night party. Live band. Drinks. Rooftop neon-gazing. And chatting late into the night.
Rachel heads home the next day, but Zoe and I stay on a little longer to see: drummers in the Drum Tower, old-age waltzers in a lakeside pagoda, hutongs (old Chinese streets full of great little shops and delicious food), a green lama called Motherfucker, caged red dinosaurs and buildings made of cowhide in the art district, a little dog wearing shoes, and to eat: dumplings galore, rose petal cake, chicken feet, and bullfrog with black fungus.
It was the most amazing experience. Thanks again to the British Council and to the Bookworm for inviting me out there and for taking such good care of me, and thanks to Peter Goff, Mojdeh Sheik, Anthony Tao and the rest of the festival gang for your excellent company. Hope to see you all again someday.
Now I'm back home, my week in Beijing doesn't quite seem real, but I have photographic evidence that it did happen. Here are a couple of shots (click on the thumbnails to see the full pics):