When Naomi and I bought our first Christmas tree together, we only just had enough money for the tree itself, and not for any decorations. Rather than buy a whole load of crappy cheap ones, we bought two or three pretty ones that we liked and had a very bare tree that year. Since then, everywhere we've travelled together, we've bought a new decoration – or a beautiful keyring if there were no decorations to be had.
We've got a King Kong we bought from our honeymoon in New York, a frog prince from Paris where we went on my 30th birthday. We've got a little green man with chimes dangling from his wooden beard, which we bought in the Centreparcs gift shop on the holiday where our first son crawled for the first time.
Now, after 19 years together, the tree is loaded. Putting it up every year is a process of storytelling. We tell our boys where each of the decorations came from. It's a volcanic peak of nostalgia in the emotional landscape of the year.
One of my favourites is from 2003, the year my first story was published: The 40-litre monkey in the Bridport Prize Anthology. Naomi made this little monkey reading a copy of the book for me. I could never forget the thrill of that first publication, after so many years of sending out stories and getting them rejected, but having this cute little touchstone makes it very real, and makes me feel especially grateful around this time of year to know that now my work has readers like you.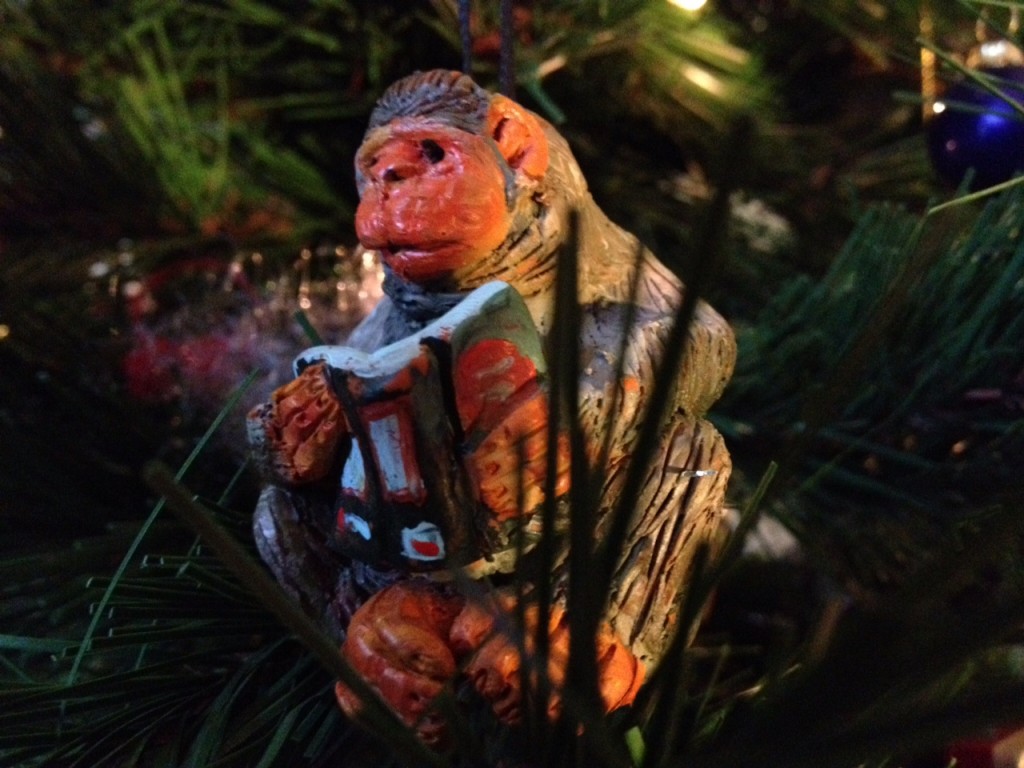 Thanks so much for visiting my blog this year, and for your interest in my stories. Wherever you are creative – on the page, behind the lens of your camera, in your office, kitchen or bedroom – I wish you all good things.
PS. This is my cat, Bubba Schmell, sticking her tongue out, as she likes to do. Happy holidays.