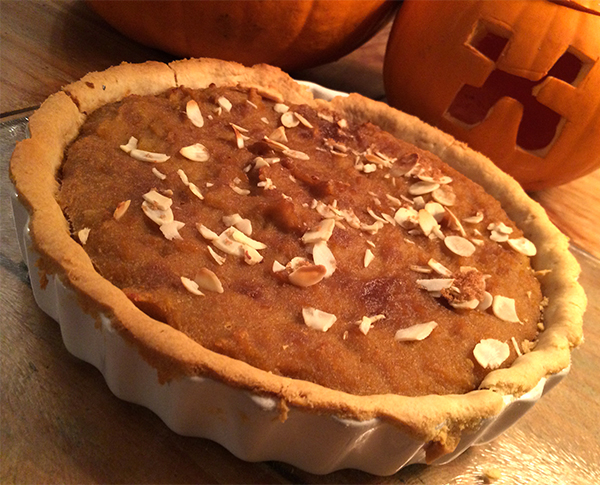 My kids really got excited about carving pumpkins this year (you'll see from the photo that they went for a Minecraft theme). So I bought three, one of which was a real whopper. It meant we had a lot of pumpkin flesh to eat. Nearly 5 lbs of the stuff in fact.
While looking for pumpkin pie recipes, I discovered that my mum still had my nan's recipe. This is a very special pumpkin pie recipe. To me anyway. It's written on a big piece of glossy card – which was part of a stack my step-dad brought home from work and on which I drew maybe a million monsters when I was 7 or thereabouts. I remember the moment my nan wrote the recipe down. It wasn't really her recipe. We saw it on the telly, on a cookery show called Patrick's Pantry. (There's a clip of the Patrick's Pantry theme tune on YouTube if you remember it and want to be transported back to the late 70s.)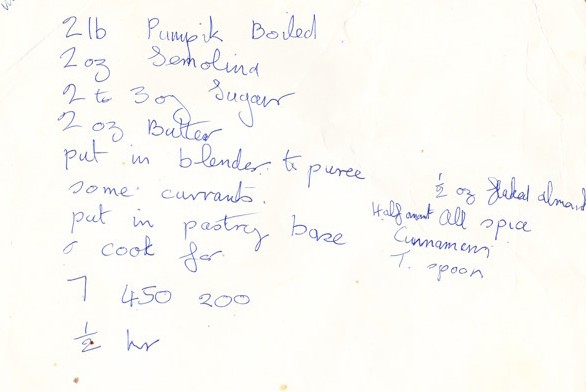 I remember my nan desperately trying to write it all down as the ingredients flashed up on the screen (we were years away from getting our first VCR). And I remember helping her scoop out the pumpkin, and then the smell of the baked pie coming out of the oven, and my first taste, and falling in love with pumpkin pie.
For years afterwards, it became a tradition to make Nan's pumpkin pie at Halloween. But I've not made it in over 15 years. When mum said she still had the original bit of card, she scanned it and emailed it over – it was wonderful seeing my nan's handwriting again.
This weekend, I made two big pies, and they were so good they're already gone. Here's the recipe:
Ingredients:
2lb pumpkin
2oz semolina
2-3oz sugar (I used brown sugar)
2oz butter
some currants
some flaked almonds
1tsp cinnamon
half tsp all spice
How to make:
1 Cook the pumpkin in a big pan with a little water and the lid on till soft.
2 Strain well.
3 Put the cooked pumpkin, semolina (uncooked), sugar, butter and spices together in a blender and mix well.
4 Stir the currants in now – your filling is good to go!
5 You'll need to have blind-baked a pastry case in a shallow pie tray by now. Should I have mentioned that earlier? Hope you read the recipe all the way through before starting – that's good advice for everything in life.
6 Pour the filling into the pastry case, sprinkle flaked almonds on top.
7 Bake at Gas Mark 7, 200C for 30 mins.
8 Serve hot, with vanilla ice cream.
Enjoy!
PS. Let me know if you decide to make the recipe 🙂