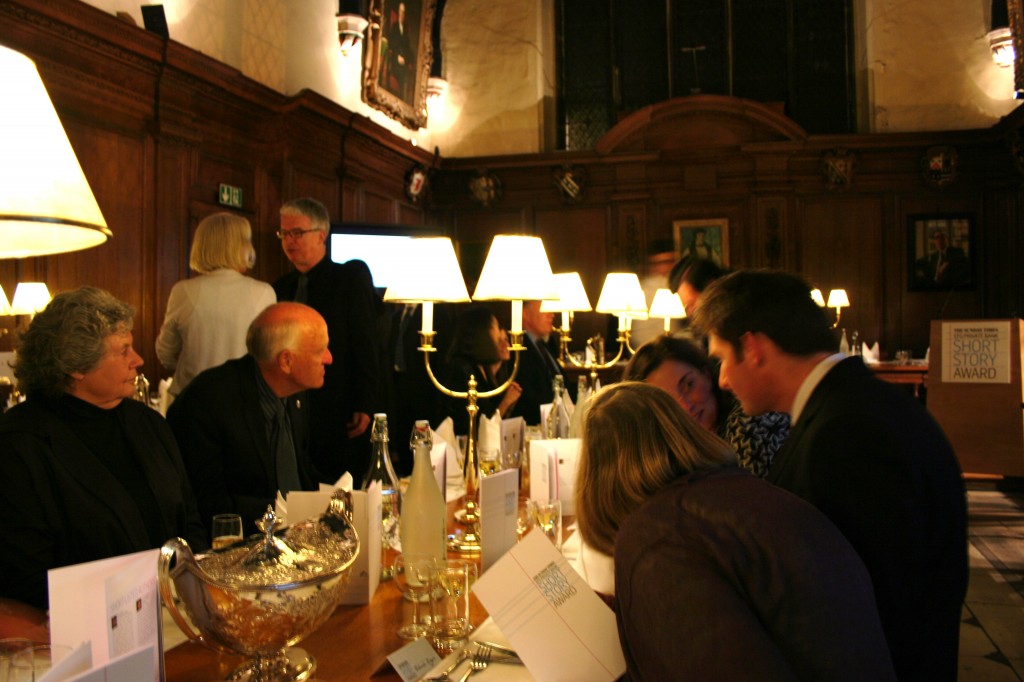 My shortlisted story is published in the Sunday Times magazine today – a good time to remember the awesome fun I had in Oxford last week.
1 The Oxford Literary Festival green room. On my way in, I checked that my flies were done up, and only then noticed a camera crew pointed in my direction, filming Alexei Sayle. I hope they had him close in the frame. In the green room, Cathy Galvin and Joe Dunthorne had already arrived. We all got a souvenir, which the lit fest give to the participants each year. This year it was a bottle of Floris shower gel. We all signed a leather autograph book. I stupidly didn't look at the previous pages to see whose company I was in.
2 The event with Alexei Sayle, Cathy Galvin, David Vann, Joe Dunthorne and CK Stead – chatting about why we write short stories. This was the first time I'd heard excerpts from the other stories – all wonderful. Great to be amongst so many enthusiastic champions of the story. The room was right next door to the grand hall where they film the Hogwarts dining room scenes. None of the paintings move in reality.
3 The Friday afternoon event. The shortlistees all sat in the audience, while on stage, Cathy Galvin, Andrew Holgate, AS Byatt and Hanif Kureishi discussed the award, the judging process, and the short story form. Each judge took turns to talk about a particular story from the shortlist. AS Byatt talked about mine. My head swelled as she said such lovely things, until it got way too big for my neck to support and flopped over onto the shoulder of the lady next to me. To hear ASB reading some of my story aloud was such a huge honour. I giggle every time I think about it.
4 The formal prizegiving dinner, held in Corpus Christi college. There were so many literary celebs there, I was wandering around totally starstruck. 'Is that Nick Hornby?' 'That's Ben Okri!' It was great to meet the people who'd I spoken to in the run up to the event – Anmar Frangoul from the Sunday Times and Claire Shanahan from Booktrust – who'd had to put up with me shrieking with joy every time she called with news of the long and shortlists. When we took our seats, I was absolutely thrilled to be sat opposite AS Byatt. We shook hands. She said she'd enjoyed my story collection. (!) This compliment so anaesthetized me that when CK Stead was announced as the winner, I felt no disappointment at all. I was genuinely glad for him. A well deserved win, his story is super. The dinner was such fun – I was also sat next to ASB's agent Deborah Rogers, CK Stead, and Stead's daughter Margaret, who were all wonderful company. Naomi was sat next to Ben Okri. He liked her squirrel joke, which she learned from our five-year-old (why do squirrels swim on their backs?…..to keep their nuts dry).
5 Piling back to the Randolph hotel for drinks. Even though the booze at the dinner was delicious, and there had been a different variety for every course, I'd been moderate, just incase I had to get up and make a speech. Now I could relax. About twenty of us, shortlistees, judges, publishers, journalists and publicists sat in the Randolph's mega-lounge drinking until 2am. A fabulous and memorable night.