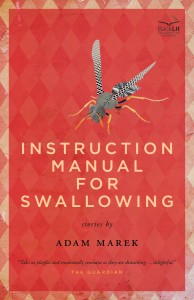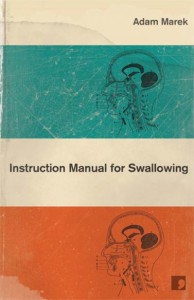 A man discovers he has testicular cancer on the day that Godzilla attacks the city in which he lives; a woman is pregnant with 37 babies; a couple argue over the best way to remove a nest of robot wasps from their garden; and a member of the kitchen staff in a restaurant for zombies learns a terrible secret… welcome to the surreal, misshapen universe of Adam Marek's first collection, Instruction Manual for Swallowing, where the body is fluid, the spirit mechanised and beasts often tell us more about our humanity than anything we can teach ourselves.
Buy it from Comma Press.
Buy it from Amazon.
Kindle version in UK.
North American edition with extra stories and an interview available now from ECW Press, Amazon and Barnes & Noble.
Reviews of Instruction Manual for Swallowing
"Adam Marek writes tales of the fantastic, the grotesque, and the impossible – all set in familiar, even mundane worlds. The effect may be unnerving or moving or hilarious, but always there is the gripping sense of an idea gestating to a point just short of revelation. Underpinning Marek's fantasies there is a nagging psychological realism. In this debut collection, the English short story receives an injection of something new and compelling and spooky."
Alex Linklater, founder of the National Short Story Prize
"Marek's fabulously meaty, funny writing makes the short story look really exciting again, pulling you, frame by frame, into a bright, strange future."
Maggie Gee

"There's a transgressive thrill to Adam Marek's debut collection of short stories that's not simply a result of the potency of the subject matter… tales as playful and emotionally resonant as they are disturbing… delightful."
The Guardian
"Genuine, unsettling talent"
The Independent
"Marek is terrific at setting an off-kilter mood"
The National Post